[phpBB Debug] PHP Warning: in file [ROOT]/includes/session.php on line 1042: Cannot modify header information - headers already sent by (output started at /home1/rau7u/public_html/index.php:2)
[phpBB Debug] PHP Warning: in file [ROOT]/includes/session.php on line 1042: Cannot modify header information - headers already sent by (output started at /home1/rau7u/public_html/index.php:2)
[phpBB Debug] PHP Warning: in file [ROOT]/includes/session.php on line 1042: Cannot modify header information - headers already sent by (output started at /home1/rau7u/public_html/index.php:2)

By Archaic Sage on April 14 at 3:22 PM.
The fine folks over at Nendoroid are well known for creating some of the best and most sought after figurines in the business. They may not be partially silicone, they may not (always!) be of anime characters with a huge pair of jugs, they're sometimes Luigi and in this case The Wind Waker Link. This is a great move for a figurine as it gives the most options in terms of facial expressions and pretty much everything else.


Nendoroid figurines, don't come with just the single image that you see above, they come with additional stances that allow for some modification. Sometimes Link may be happy, sometimes angry and sometimes he might be finally getting a heart piece.
It's not a cheap move to buy from Nendoroid, you're looking at 4,000 yen, which in pounds is around ÂŁ25, plus delivery. The important thing to note is that this isn't actually available to buy now, it's out in August. You have to put your name on a waiting list as these things are so popular. Yes, they're that good. So it's worth putting that preorder through now.
You can purchase them from Good Smile,
here
.
---
By Archaic Sage on April 14 at 7:59 AM.
It would seem that in recent years, Nintendo have been far more prepared to allow licenses of their intellectual property. In the late 1990s and early 2000s, it was pretty rare to see Nintendo merchandise in the UK, let alone merchandise provided entirely by third parties. So when I saw that one my favourite board and videogames is having a Zelda edition, frankly, I was excited. I'm one of those mental people who not only love Monopoly, but encourage other people to enjoy it and destroy friendships and family relationships in the process.

The puzzle, which looks like it's based on an iconic piece of Ocarina of Time official artwork will contain 550 pieces and measure 18" x 24", which in metric is about 46cm x 61cm - so not small by any stretch.

There's no release date slated for the UK at the moment, but with the advent of the internet and international shipping these two items aren't too far out of reach... that and it's highly likely that they'll be released in the UK.


Source(s):
Nintendo World Report
,
Southern Hobby Supply
and
Southern Hobby Supply
---
By Archaic Sage on June 17 at 2:41 PM.
The creator of the Zelda series, Shigeru Miyamoto today confirmed that they have been working on Ocarina of Time 3DS since they first started development of the new 3D DS three years ago. At the roundtable interview, Miyamoto confirmed to the Official Nintendo Magazine (UK) that Ocarina of Time was one of the first games that popped into his head for the 3D remake.


One of the reasons we wanted to create that is that three years ago when we started working on the 3DS I really wanted to experience running around Hyrule Field in 3D.
---
By Archaic Sage on June 16 at 11:02 AM.
The well known, and well loved gaming blog Destructoid have posted their first video of one of their reporters playing Skyward Sword at the E3 Expo this year. The video is about 10 minutes long and shows a great deal of the demo level that is currently playable to all E3 Expo participants.



Over the 10 minute video it becomes clear that the problems experienced on the demo at the Nintendo Conference was truly due to interference - as stated at the Conference.
---
By Archaic Sage on June 15 at 9:05 PM.
As I said in a previous update, we were waiting for the latest media from Nintendo go live on the Rauru's Return server and now it is. For those of you salivating over the latest media from Skyward Sword you can find all of the official art here, the screenshots here and in about half an hour you can download the HD movie in a .MOV format here.
---
By Archaic Sage on June 15 at 8:27 PM.
The tale of Ocarina of Time 3DS continues - it would appear that Nintendo are not going to be releasing this title on the 3DS any time soon. If you believe what RMC, the founder of the popular Nintendo blog GoNintendo has to say. According to one of his official posters he has quoted JC Rodrigo as stating:


"...is that all the classic Nintendo games currently being demoed on the 3DS are not announced yet. They are just tech demos that show how the 3DS can make classic games 3D very easily and there is no guarantee that these games are going to be available for the 3DS."
Maybe it's a way of calming the masses, maybe it's a way to increase hype.
Source:
GoNintendo
---
By Archaic Sage on June 15 at 8:22 PM.
Unconfirmed reports are currently being reached by the many Zelda sites across the internet that there is an imminent announcement due to be made by Nintendo in relation to the "Best Game of All Time" - Ocarina of Time.

Spreading like wildfire across the internet, pictures are circulating that are apparently from Nintendo's official website that show Ocarina of Time with improved graphics and in 3D on Nintendo's latest issue of the insanely popular Nintendo DS - the 3DS.

The pictures shown below are apparently from the Nintendo E3 server; however, the direct links to these pictures now show them as a 404 Error - as in they've been pulled. If the sources are correct, we may be in for a treat any time soon.


As a side note - yes we're aware that the HD Trailer, Official Art and Screenshots have been released to the press. They are currently being uploaded to the Rauru's Return server.
Source:
1UP
---
By Archaic Sage on June 15 at 2:12 PM.
At the E3 Expo in Los Angeles, California, Shigeru Miyamoto, the original creator of The Legend of Zelda series and many other famous and successful franchises announced various new details around the commonly known Zelda Wii - including it's official title - The Legend of Zelda: The Skyward Sword.

This is only the fourth time that an English name has been announced prior to the Japanese name in the series 20+ year history. This is due to a shift in popularity of the Zelda games in Japan, they're no where near as successful as they used to be; however, in the USA and Europe they are more popular than ever.

Various other details were confirmed by the legendary Miyamoto, such as The Skyward Sword will require Wii MotionPlus, will contain 1:1 sword swinging with Z-Targetting, Shield Bashing and you can select items from your pockets using the Wii MotionPlus technology. The slingshot deosn't involve pointing at the screen, you just move the remote as if you're shooting a real one, it's even possible to bowl as if you were bowling in real life.

Skyward Sword will be out in 2011, with no rough date currently scheduled.

The Skyward Sword demo will be playable at E3 this year, so there's going to plenty to talk about very shortly with opinions coming back from every major gaming site in the world. The actual gameplay event was a bit dodgy with a few errors due to the size of the event; however, the trailer showing this is below:


---
By Archaic Sage on June 05 at 11:50 AM.
The Legend of Zelda is an incredibly popular videogame series, it's referenced to in various videogames and TV shows throughout the years. It's even got it's own book based around philosophy in the Zelda series. There's also a metric ton of fanart and clothes out there - one new limited edition t-shirt is available today - and for today only.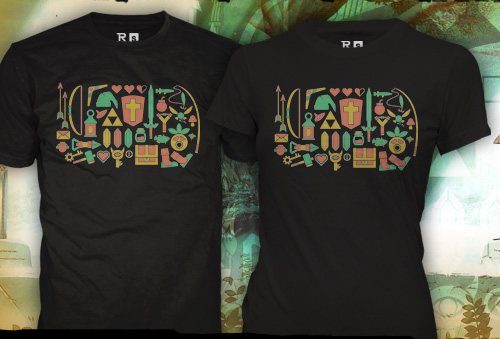 The above t-shirt is available for $10USD delivered worldwide, but there's only a limited amount of time left to get this - at the time of writing this post - 14 hours to be exact. So make sure you get in there fast!
You can purchase this tshirt by going
here
.
---
By brian2040 on October 20 at 4:07 PM.
WOW! Someone made a papercraft life size model of Twilight Princess's Link! Check it out...

This takes some time and skill, that's for sure.

For more photos and info, click here.
---